Grab Our Natural & Fresh Range of Tea Leaves At Fair Prices....
About Us
Tea is simply the most beloved drink of every home. A real boon for making mornings & evenings refreshing and mood uplifting. That is what makes them such highly demanded in the markets across the globe. And, to fulfill such demands, we, at Harshita Enterprises, are working effectively as a trader and exporter. Our offered huge variety consists of Dry Tea Leaf, White Tea Leaf, Roasted Green Tea Leaf, Green Tea Leaf, Black Tea Leaf and Golden Tea Leaf. The variety we bring for our customers have enormous qualities and health benefits. For which, it receives endless compliments and praises.
Our company is listed among the elite suppliers of Tea Leaves in the market. We are associated with leading manufacturers who ensure consistent supply of fresh Tea Leaves in every season of the year. With this, our company upholds a strong & reputed position in the market with support & blessings of large number of customers.
In our journey of almost 8 years, we have accomplished countless achievements in the domain and made ourselves financially strong and successful. Now, we occupy all worthy resources to sustain unresistant growth in the sector for years.
Customers' Satisfaction
Being a trading firm, we have deviated our processes more towards convenience of our valuable customers. We are in very good terms with a wide network of clientele across the world. And, our prior concern is provide them an enhanced satisfactory experience through our offered products & services. We understand their expectations regarding the quality; therefore, we serve a superior quality range of Green Tea Leaf, White Tea Leaf, Dry Tea Leaf, Black Tea Leaf, Roasted Green Tea Leaf and Golden Tea Leaf which potentially exceeds every standard requirements and delivers value & mean to our customers. Moreover, our every organizational process is customer centric, which makes us way more trustworthy and reliable than others in domain.
Our Policies
We run our organization with policies & rules in order to maintain a dignified status in the market. These policies are:

To offer the quality assured & freshest range only
To stay committed towards customers' satisfaction
To stay punctual, professional and ethical in business
To stay respectful & loyal to each other and customers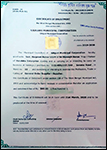 Get in touch with us